636
23.07.2019
Belarusian customs is for security: five significant detentions of the first half of 2019
 1.    About 2.5 kg of cocaine in the cache (January 2019)
Grodno customs officers at Bruzgi checkpoint stopped thе attempt to bring into the Eurasian Economic Unit a large batch of a dangerous drug. During the customs operations of a car driven by a resident of the European Union, Grodno customs officers found a cache, equipped in the engine compartment of the car with three bundles which contained about 2.5 kg of cocaine. 
2.    
Silver in the cache (February 2019)
A large batch of silver jewelry was discovered in the caches of the car by the officers of Operational customs. A citizen of the Republic of Belarus tried to illegally move the jewelry from Poland through Bruzgi checkpoint. The jewelry in 63 plastic bags was hidden from customs control in the caches, equipped in the steering wheel and control panel of the Honda Civic car. In total 2 266 bracelets and chains were found.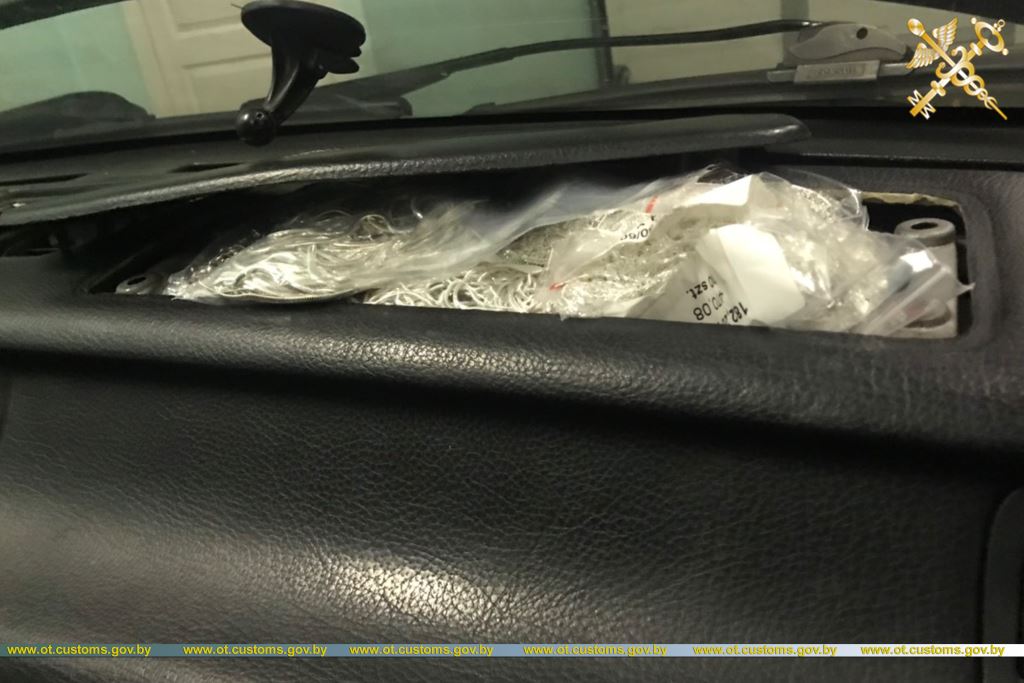 3.    Over 100 kg of amber in the cache (March 2019)
At Brest checkpoint Brest customs officers found over 100 kg of raw amber stones in a cache equipped in a minibus. A 32-year-old resident of the Brest region followed through the red corridor to Poland and declared a vehicle for the international carriage of passengers. However during the inspection of the car a specially equipped cache was found, in which there were plastic bags with minerals of different colors, shapes and sizes.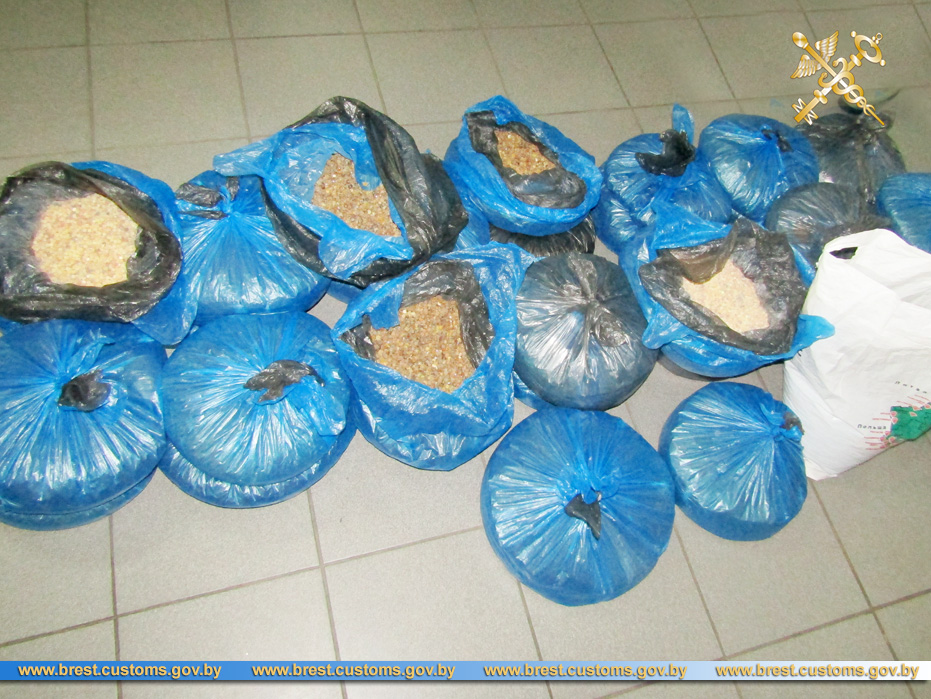 4.    Over 100 kg of psychotropic ecstasy in the cache (May 2019)
Brest customs officers at Domachevo checkpoint found in a cache over 100 kg of ecstasy. A 38-year-old citizen of the Russian Federation followed from Poland by a 2010-made CHRYSLER car and declared a scooter and a floor-mounted air conditioner. However during the inspection of the car customs officers found specially equipped caches in the cabin and trunk of the car, which can be opened with an electromagnetic lock, in which 100 plastic bags with ecstasy were hidden. This is the largest batch of psychotropic substances identified at the customs border in the past 25 years.
5.    Firearm and a batch of antiques hid the Russian in personal belongings (May 2019)
A citizen of the Russian Federation born in 1977 tried to illegally import firearms into the territory of the Eurasian Economic Union. The crime was stopped at Bruzgi checkpoint through which the Russian moved as a passenger on the LEXUS car. In his luggage the customs officers found oil paintings, reproductions in wooden and plaster frames, a russian cossack saber of 1927, a four-sided bayonet and also a double-barreled pistol. According to a ballistic examination carried out by the Grodno Region Directorate of the State Forensic Examination Committee the double-barreled front-loading pistol with a flint lock and caliber of 14.5 mm is identified as a firearm.
In total in the first half of 2019 Belarusian customs revealed about 23 thousand offenses and 212 crimes.